The long Covid, a still poorly understood disorder that divides the medical world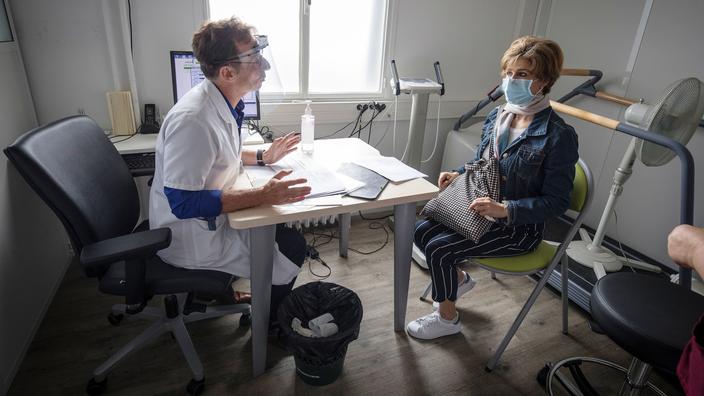 DECRYPTION – Due to a lack of knowledge about the long Covid and the reluctance of some scientists to recognize it as a real pathology, patients are struggling to be relieved of their ailments.
As the fifth wave of Covid-19 sweeps over France, the mysterious disease we call "Covid longIs still the subject of debate and controversy in the medical community. Several months after contracting the coronavirus, including mild forms, patients are confronted with persistent symptoms: loss of taste and smell, headaches, exhaustion sometimes referred to as "overwhelming fatigue», Rapid shortness of breath on exertion, memory loss, difficulty concentrating. However, this long Covid disorder remains unclear and ill-defined in France, so much so that the legislator has taken up the subject.
Read alsoCovid-19: the effectiveness of the booster dose is confirmed in French hospitals
In France, while the number of contaminations and deaths attributable to the coronavirus is announced every day, there is no official count of the number of people affected by the long Covid. Faced with this public health problem, the National Assembly adopted on November 26 a law aimed at improving the care of these patients and the creation of a monitoring platform. According to the deputy Michel Zumkeller, author of this text, "the lack of recognition of this post-infectious syndrome plunges patients into great distress."
Relying in particular on the work of Professor Dominique Salmon-Ceron, infectious disease specialist at Hôtel-Dieu, this deputy for the Territoire de Belfort underlines in his parliamentary report that "25 to 30% of patients show symptoms of the virus one to two months after the initial diagnosis, and 10 to 15% after six to eight months."Globally, 10% of the population is affected according to the WHO. "In France, this would therefore represent between 700,000 and 1 million people, it is colossal», Declares Michel Zumkeller to Figaro.
WHO clinical definition
On October 6, the World Health Organization (WHO) published for the first time a definition of long Covid: "Post-COVID-19 disease occurs in people with a history of probable or confirmed SARS-CoV-2 infection, usually 3 months after the onset of COVID-19 with symptoms that persist for at least two months and which cannot be explained by another diagnosis. "
Read alsoThe recognition of the long pediatric Covid, an obstacle course
In France, the Haute Autorité de Santé has taken up the subject since February 2021. On November 19, it announced that it had updated files relating to the symptoms associated with long forms of Covid. No less than three, concerning "digestive symptoms, eye damage and skin disordersHave been added. These specific sheets by symptoms, specifies the HAS, "are now 13 in number."
A law to improve care
Michel Zumkeller collected in November 2021 on his site loicovidlong.fr some 2,000 testimonies in a few days. "Fatigue, shortness of breath, chest pain, difficulty concentrating and remembering, pain, dizziness, insomnia, the suffering of these people is real. They are not imaginary patients», Insists the deputy. He deplores that "the current care is not sufficient, nor coordinated". "People can no longer work or take care of their children …, he adds.
SEE ALSO – "I feel like I've aged thirty years in a few months": the "covid-long", A severe form of Covid-19 still unknown
Auditioned at the National Assembly, Ludovic Toro, doctor and UDI mayor of Coubron (Seine-Saint-Denis), receives in consultation many patients suffering for more than a year and a half. "After two years of the pandemic, it is essential to recognize this post-infectious syndrome, the expectations of patients are enormous», He says to Figaro. In his parliamentary report, Michel Zumkeller underlines that it is difficult to establish a typical patient profile, "even if it seems that women without comorbidities and between 30 and 50 years old could be more affected."
Lively debates within the scientific community
Since its appearance after the first wave, the long Covid has divided. "The persistence of symptoms is of psychosomatic origin for a majority of patients", Affirmed at the beginning of April 2021 Brigitte Ranque, professor of internal medicine at the Georges-Pompidou European hospital, about the long Covid in The daily life of the doctor.
A study published in the journal Jama in November, according to which the long Covid would be mainly of a psychological nature, made a strong reaction. In a column published in The world , on November 23, eight practitioners, including infectious disease specialist Dominique Salmon-Ceron, denounced "major scientific weaknesses" In this study. They concluded that she "does not provide any usable information on the long Covid.For example, relying on serological tests is less reliable, according to them, than PCR tests.
Alain Trautmann, emeritus research director at the Institut Cochin in Paris, is one of the signatories. Contacted by Le Figaro, the researcher regrets that those "who doubt the organic reality of this pathology, speak of somatoform or psychosomatic disorders, to suggest that the cause would be psychological / psychiatric.According to him, the use of these medical terms serves to hide his ignorance in the face of this post-infectious syndrome.
Another signatory of the forum, Eric Guedj, head of the nuclear medicine department at the University Hospitals of Marseille, pleads for recognition of the disease on a scientific level. In a study, he put forward "specific brain damage in long Covid patients, suffering from "brain fog."
Read alsoAt Foch hospital, a unit dedicated to these Covid patients who are struggling to recover
"Not all suspicions of Covid long are", He admits, but"a patient can have a negative serology while having a long Covid», He says to Figaro. "In these patients, it has been proven by serious studies that there is an immune disorder and sometimes viral and inflammatory persistence."
SEE ALSO – Can vaccination help cure long Covid?
.