The month of Sawan is starting from July 25, the first Monday is on July 26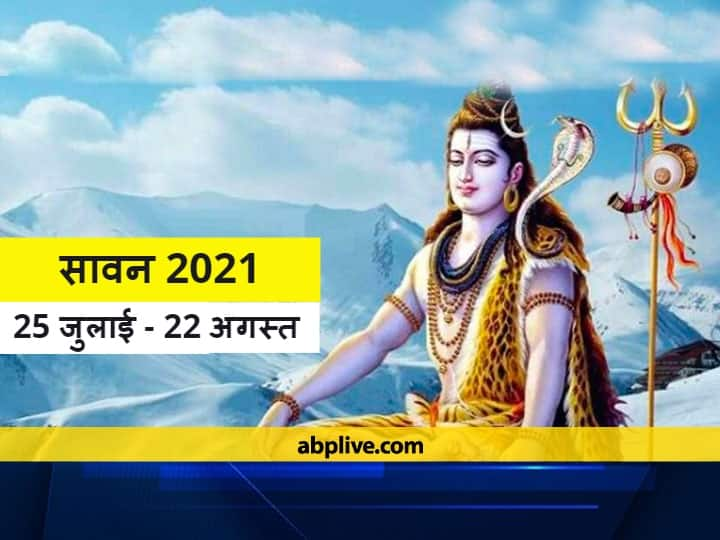 Sawan 2021 Date: The month of Sawan is about to begin. According to the Panchang, the month of Sawan is starting on July 25. The month of Sawan is considered special in the scriptures. Ashadh month is going on now. The end of the month of Ashadh will be on the full moon day. The date of this full moon is also the festival of Guru Purnima. This full moon is also known as Ashadha Purnima.
The special significance of Monday in the month of Shravan i.e. in the month of Sawan has been given. The entire month of Sawan is dedicated to Lord Shiva. Chaturmas has started. Chaturmas have started from the Ekadashi of Shukla Paksha of Ashadh month, also known as Devshayani Ekadashi. Auspicious and Manglik works are not done in Chaturmas. Manglik functions like marriage are considered taboo in Chaturmas.
First Monday of Sawan (First Somwar of Sawan 2021)
The first Monday of Sawan month is on 26 July 2021. Special worship of Lord Shiva is done on this day. Shiva devotees worship Lord Shiva by keeping a fast on this day. It is believed that on this day Lord Shiva should offer his favorite things and do Abhishek. By doing this all kinds of wishes are fulfilled. When is Monday in Sawan? Know the complete list of Sawan Monday-
First Sawan Monday fast – 26 July 2021
Second Sawan Monday fast – 2 August 2021
Third Sawan Monday fast – 9 August 2021
Fourth Sawan Monday Vrat-16 August 2021
Keep these things in mind in Sawan
Some special things have been told in Sawan. They should be followed. Care should be taken regarding food in Sawan. It is believed that brinjal, milk etc. should not be consumed in Sawan. Along with this, turmeric should not be used during the worship of Lord Shiva.
Read also:
Sawan 2021: First Monday of Sawan is on 26th July, Lord Shiva is pleased by worshiping
Chaturmas 2021: Now you have to wait for four months to do auspicious and auspicious work, Chaturmas will end on this day
.