"They make us think that they have information that we do not have": these caregivers who discourage vaccination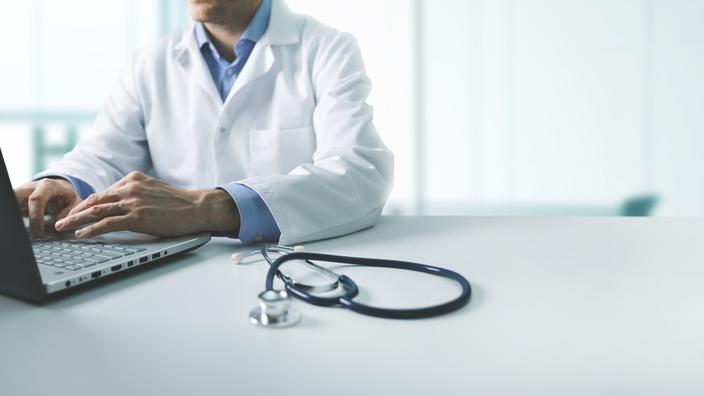 TESTIMONIALS – On social networks, several people complain that a doubt has been instilled in them by a health professional about vaccination. A practice that remains in the minority, but that the medical authorities are monitoring.
"He told me that he was not advising me, because it is a messenger RNA vaccine on which "we have no hindsight". He added that he had discouraged his parents from doing so". This is the bad experience Aline *, 33, underwent during a consultation with the replacement of her general practitioner, when she was five months pregnant. "I find that irresponsible. It made me angry, not so much for myself, but for other people who could do serious forms because of that kind of bad advice.She continues. Despite everything, she was vaccinated, having previously inquired about the subject and after having taken other advice from caregivers.
Read alsoVaccine: in the face of reluctance, Emmanuel Macron hardens his tone
Like her, several people say on social networks that a professional has them or one of their relatives, instigated doubt about the vaccination. "The doctor at the vaccination center asked her at least twice if she was sure she wanted to have the vaccine, since she was pregnant, with insistent looks», Tells a young woman about one of her friends. "A vaccination campaign has started in the town where my grandfather lives. He refused to go there, his ophthalmologist he had just seen had guaranteed him that he had a good chance of dying from the vaccine, and little from the Covid», Explains Emmanuel *, 38 years old. "I had managed to convince my wife who is against the vaccine to get vaccinated, I told her to approach our nurse to see if she could do it for us, recalls Franck, 46 years old. She told him that she was vaccinating, but that she wanted to clarify that she herself was not vaccinated and that she would not do so.".
Behavior "not at all ethical"
Most greet this positioning with amazement, and sometimes anger. The parents-in-law of Benoît, 44, live in Guadeloupe, where the epidemic wave is particularly strong, and the mistrust of vaccination as well. Faced with her parents' doubts, her partner encourages them to approach their doctor. But he then holds an openly anti-vaccination discourse, which confirms them in the idea that they should not be vaccinated. "The doctor's speech was not based on medical considerations but consisted of a general opinion on vaccines, of questionable utility and designed to fatten laboratories», Specifies Benoît. "My partner was stunned, especially when you have the situation in the West Indies in mind. I am scandalized by these irresponsible people who discredit the professionHe continues. A reaction shared by Franck: "That revolts me. When we manage to remove a doubt, to go slowly towards the vaccine, they give it to us by making us think that the vaccine is not up to date and that they have information that we do not have.".
However, article 12 of the code of medical ethics indicates that "the doctor must support the action taken by the competent authorities for the protection of health and health education". Gold, "one thing is clear: the best protection to contain the pandemic has been and still is vaccination», Reminds the Figaro Dr Jean-Marcel Mourgues, vice-president of the National Council of the Order of Physicians. "To denigrate the vaccine is to encourage people not to be vaccinated and to take the risk of being infected and developing a serious form. People who denigrate the vaccine kill and it's not ethical behavior at all", Abounds Jean-Christophe Nogrette, deputy general secretary of the MG France union. In principle, only a few medical contraindications can encourage the doctor to discourage vaccination: allergy to one of the components of the vaccine or allergic shock at the first dose.
Read alsoAre the Covid-19 vaccines still in the experimentation phase?
Doctors who take an open position against vaccination risk a lot. If several complaints go back to the council of the order, the doctor can be called by the departmental council of the order of physicians for a "confraternal interview»During which he will have to explain his grievances. "Sometimes there may be a distortion of what is reported, sometimes the doctor's position may have changed, would like to remind Dr Jean-Marcel Mourgues. But in the event of situations reiterated locally or public expression in the media against vaccination, "the doctor may be the subject of a complaint and have to explain himself in the disciplinary chamber», Indicates the vice-president of the National Council of the Order of Physicians. However, these situations remain in the minority: out of 235,000 practicing physicians, disciplinary cases only concern about ten cases in total.
* The first names have been changed.
---
SEE AS ​​WELL – Do vaccines promote the emergence of new variants?
.