This is the list of festivals of February 2022, how to please which god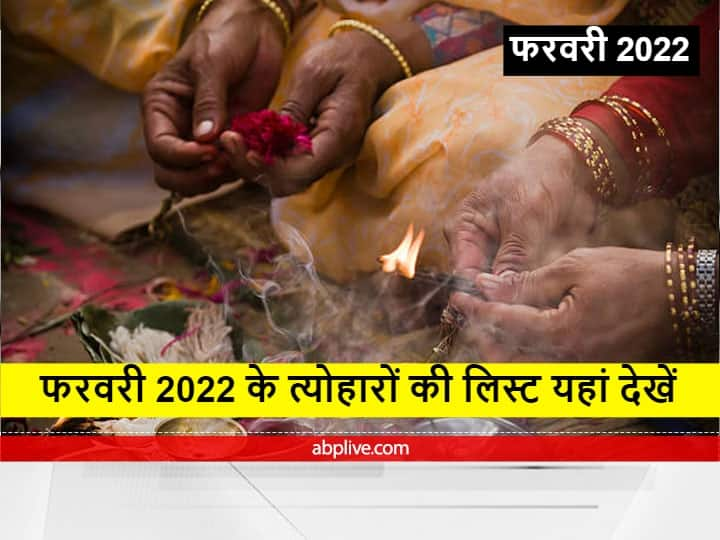 February 2022 Calendar : The sticks of festivals start appearing as soon as the new month comes. In the beginning of the month, Magha Krishna Paksha will be going on. By the way, every day's Panchang has special significance. Where any particular date and festival gives us the opportunity of worship and fasting in different ways. At the same time, these festivals fill joy, happiness and gaiety in the mind, but in today's time where everyone is very busy in their respective work, due to which people have to face a lot of difficulties in finding out the dates and finding out the Panchang. So, today we have brought a solution to your problem, in which we will talk about the festivals falling in the month of February 2022 and the fasting and worship related to them.
1 February 2022 – Bhaumvati Amavasya / Mauni Amavasya of Bathing
The new moon day of Magh month is also considered very holy and virtuous. River bathing and charity have great significance on this day. According to the beliefs, the deities reside in the holy confluence on this day. This month is also called as virtuous month like Kartik. It is important to keep silent on this day and do bhajan of God.
4th February 2022 – Vainayaki Ganesh Chaturthi
The Chaturthi that falls in the Shukla Paksha of every month is called Vainayaki Ganesh Chaturthi Vrat. By fasting and worshiping Ganesha on this day, happiness-prosperity, wealth-wealth, financial prosperity as well as knowledge and wisdom are attained in the house.
5 February 2022 – Basant Panchami
The festival of Vasant Panchami marks the arrival of spring. It is considered the king in the spring seasons. The worship of Goddess Saraswati, the presiding deity of speech, also has special significance on this day. There is also a practice of imparting alphabet knowledge to babies on this day. Before worshiping Saraswati, the Kalash should be established methodically. First of all, by worshiping Ganesh, Surya, Vishnu, Shankar etc. Saraswati should be worshipped.
6 February 2022 – Sheetala Shashti
Sheetala Shashti is the sixth day of Shukla Paksha of Magh. There is a law to worship Sheetla Devi on this day. Mata Sheetla makes her devotees child-bearing and gives the boon to the children to remain disease free. On this day, after retiring from the daily activities of bathing in the morning, Sheetla Devi should be worshiped with a Shodashopachar method. On this day, only stale food is eaten by offering stale food to the goddess.
7th February 2022 – Rath Saptami
The Saptami of Shukla Paksha of Magha month is called Ratha Saptami or Achala Saptami. It is believed that Lord Surya Dev started enlightening the whole world on the day of Rath Saptami i.e. it is also considered as the birthday of Lord Surya. For the purpose of Surya Narayan, women observe a fast on this day and worship the Sun God. Fasting on this day leads to salvation.
8 February 2022 – Bhishma Ashtami / Durgashtami
Bhishma Ashtami is celebrated on the eighth day of Magh Shukla Paksha. Child-celibacy Bhishma Pitamah died on this date. Bhishma was lying on his bed after being wounded by Arjuna's arrows. He was determined, serious and pure in nature. On this day, a person who performs tarpan and shraddha with sesame seeds for the purpose of Bhishma Pitamah gets a child.
12 February 2022 – Jaya Ekadashi fast
Magha Shukla Ekadashi is called Jaya Ekadashi. Lord Keshav is worshiped on this day. The one who observes this fast does not have the fear of going into evil creatures like ghosts, phantoms, vampires etc. The sins and defects of his many births are destroyed and he attains happiness in this world and the hereafter.
14 February 2022 and 28 February 2022 – Som Pradosh Vrat
Som Pradosh Vrat is mainly auspicious for the liberation of sins. However, Pradosh fasting on other days gives happiness, prosperity, peace, health, wealth, etc. Worshiping Shiva on this day in the evening is especially fruitful. Going to the temple and performing Jalabhishek on Shivling gives desired results.
16 February 2022 – Maghi Purnima
Maghi Purnima Tithi is the last date of Magh month. This day is good to please Lord Surya. On this day, by bathing in the holy river, donating, chanting and fasting, the blessings of the Sun God and salvation are attained. Along with this, diseases are also removed and merit is attained.
19 February 2022 – Sankashti Ganesh Chaturthi fast
On this day special importance has been given to worship of Vighnaharta, who defeats calamities. On this day, by worshiping and worshiping, one gets happiness and gets the blessings of Lord Ganesha.
27 February 2022 – Vijaya Ekadashi fast
Vijaya Ekadashi is celebrated on the Ekadashi of Falgun Krishna Paksha. Lord Vishnu is worshiped on this day. Due to the effect of fasting, one gets victory in all tasks by removing poverty and sorrow. It is believed that on the day of Falgun Krishna Ekadashi, Lord Rama reached the beach to attack Lanka. On the advice of the sages, he had done this fast while climbing Lanka with the wish of victory.
28 February 2022 – Mahashivratri fast
Shivratri fast is on Falgun Krishna Trayodashi. At some places, people also observe this fast on Chaturdashi. This is a very important fast of Lord Shankar. Brahmins, Kshatriyas, Vaishyas, Shudras, male-female, children and old people can do this fast. Worshiping Lord Shankar's Shivling with Gangajal and milk on this day gives special benefits.
Aries students will get success in the competitive field, there is a possibility of getting good results of hard work.
How do students with Taurus sign plan for the new year 2022? Will your hard work pay off?
,