Today's Panchang: Budhaditya Yoga is formed in Cancer on July 28, Ketu is sitting in Scorpio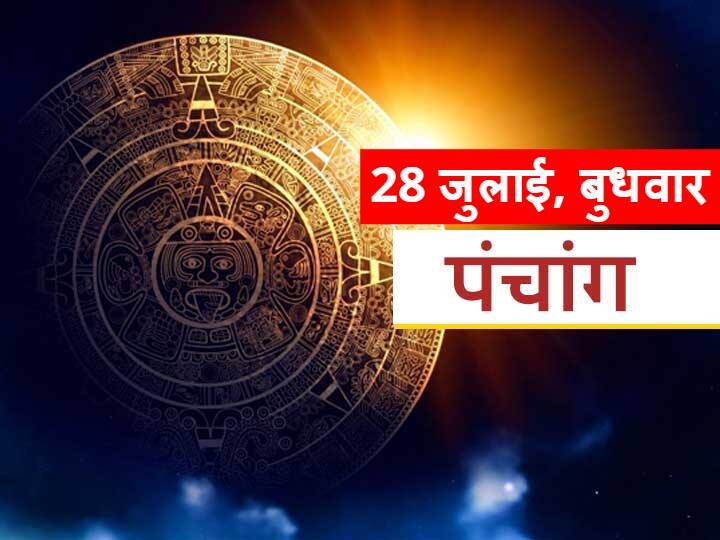 Aaj Ka Panchang 28 July 2021: According to the Panchang, 28 July 2021, Wednesday is the fifth date of the month of Shravan. On this day the Moon is in Pisces. Wednesday is dedicated to Lord Ganesha. On this day, the planet Mercury is forming Budhaditya Yoga with the Sun in Cancer. Today Rahu is in Taurus and Ketu is in Scorpio. What is special on this day according to the Panchang, let us know-
Today's date (Aaj Ki Tithi)
According to Panchang, 28th July is the fifth date of Krishna Paksha of the month of Shravan i.e. Sawan. The date of Panchami is considered best for learning, music, marriage and crafts. Panchami Tithi is also known as Shrimati and Poorna Tithi. The lord of Panchami Tithi is considered to be Nag Devta. That is why the festival of Nag Panchami falls on the date of Panchami. On this day special merit is obtained for worshiping Goddess Saraswati and Lord Shiva.
Budhaditya Yoga is formed in Cancer
On Wednesday, July 28, in Cancer, the king of planets, Sun and the prince of planets, Mercury are transiting in conjunction with the planets. When Sun and Mercury are together then Budhaditya Yoga is formed. In astrology, this Budhaditya Yoga formed from Sun and Mercury is considered as Raja Yoga. When it is constructed, the person gets respect and high position.
Today's Nakshatra (Aaj Ka Nakshatra)
According to the Panchang, Purvabhadrapada Nakshatra remains on 28th July, Wednesday. The lord of Purvabhadrapada is Dev Guru Brihaspati. At present, the planet Jupiter is transiting retrograde in Aquarius. The deity of this constellation is Ajikapad. This constellation is considered as the 25th constellation out of 27 constellations. The people born in Poorvabhadrapada Nakshatra are very lucky. They are full of knowledge and rituals.
Panchang 28 July 2021
Vikrami Samvat: 2078
Month Purnimant: Shravan
Party: Krishna
Day: Wednesday
Date: Panchami – till 26:51:10
Nakshatra: Poorvabhadrapada – till 10:45:51
Karan: Kaulava – till 14:35:06, Taitil – till 26:51:10
Yoga: Atigund – till 20:16:55
Sunrise: 05:39:50 AM
Sunset: 19:14:57 PM
Moon: Pisces
dry season: rain
Rahu Kaal: 12:27:24 to 14:09:17 (no auspicious work is done during this period)
Auspicious time, Abhijeet Muhurta – none
Direction: North
Inauspicious timing –
Wicked Muhurta: 12:00:14 to 12:54:34
Kulik: from 12:00:14 to 12:54:34
Kalvela / Ardhyam: from 06:34:11 to 07:28:31
hours: from 07:21:44 to 09:03:37
Kantak: From 17:26:17 to 18:20:37
Yamgand: From 07:21:44 to 09:03:37
Gulick time: from 10:45:31 to 12:27:24
Read also:
Shani Dev: First Saturday of Sawan, Capricorn and Aquarius must do these measures, Shani Dev will be calm
Eclipse 2021: Pregnant women should keep these things in mind at the time of eclipse, know when the eclipse will take place?

.