Today's Panchang: July 24 is the festival of Guru Purnima, know the auspicious time and Rahu period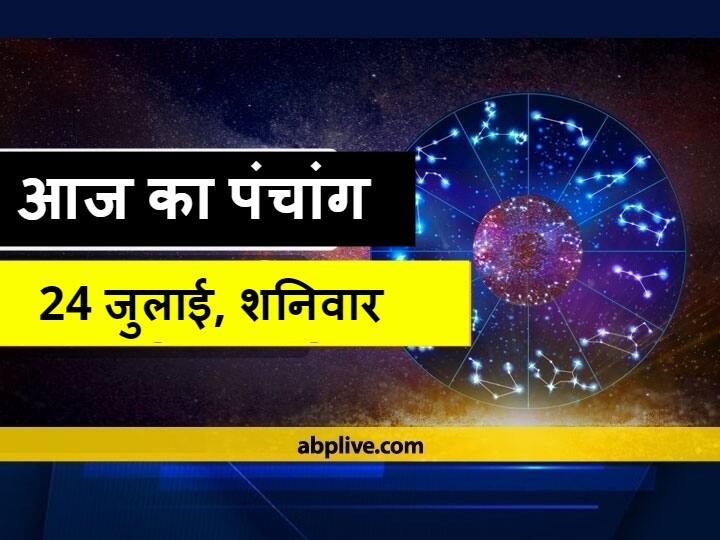 Aaj Ka Panchang 24 July 2021: 24 July 2021, Saturday is the full moon date of Shukla Paksha of Ashadh month. This full moon is also known as Ashadha Purnima, Guru Purnima and Ved Vyas Purnima. Being a Saturday, there is also a coincidence of worship of Shani Dev.
According to the Panchang, Uttarashada Nakshatra remains on Saturday. Moon is transiting in Capricorn. Where Shani Dev is sitting in retrograde. Today, due to the combination of Saturn and Moon, poison yoga is formed in Capricorn.
Today's Puja (Aaj Ki Puja)
Guru Purnima 2021- Guru Purnima is celebrated on 24th July, Saturday. The festival of Guru Purnima is considered a very holy festival. Special worship of Gurus is done on this day. Special importance of Guru has been told in the success of life.
Shani Puja (Shani Dev)- Saturday is dedicated to Shani Dev. The importance of worship of Shani Dev has increased due to the date of full moon on Saturday. Worshiping Shani Dev removes obstacles in life.
Panchang 24 July 2021
Vikrami Samvat: 2078
Month Purnimant: Ashadh
Side: Shukla
Day: Saturday
Date: Full Moon – till 08:08:37
Nakshatra: Uttarashada – till 12:40:48
Karan: bav – till 08:08:37, balav – till 18:57:29
Yoga: Vishkumbh – till 06:10:04, Preeti – till 27:14:11
Sunrise: 05:37:36 AM
Sunset: 19:17:12 PM
Moon: Capricorn
dry season: rain
Rahu Kaal: 09:02:30 to 10:44:57 (no auspicious work is done during this period)
Shubh Muhurta Timings, Abhijit Muhurta – 12:00:04 to 12:54:43
Direction: East
Inauspicious timing –
Wicked Muhurta: 05:37:36 to 06:32:14, 06:32:14 to 07:26:52
Kulik: from 06:32:14 to 07:26:52
Kalvela / Ardhyam: from 13:49:21 to 14:44:00
hours: from 15:38:38 to 16:33:16
Kantak: From 12:00:04 to 12:54:43
Yamgand: From 14:09:50 to 15:52:17
Gulick time: 05:37:36 to 07:20:03
Read also:
Shani Dev: Please please 'Shani Dev' with Shani Chalisa, Shani Mantra and Shani Aarti on the last Saturday of the month of Ashadha.
Economic Horoscope 24 July 2021: Libra and Capricorn people be careful, know the horoscope of all zodiac signs
.