Today's Panchang: Pradosh fast is on 20th August, keep in mind Rahu Kaal before doing auspicious work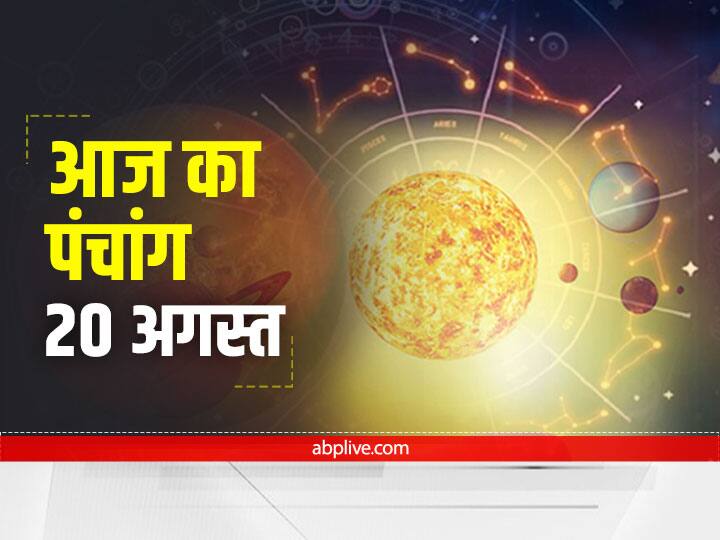 Aaj Ka Panchang 20 August 2021: On 20 August 2021, Friday is important from a religious point of view. On this day the worship of Lord Shiva and Lakshmi ji is becoming a special coincidence. What is special in today's Panchang, let us know.
today's worship
Pradosh Vrat 2021 (Pradosh Vrat 2021)- According to the Panchang, August 20, 2021, Friday is the Trayodashi date of Shukla Paksha of Shravan month. Pradosh fast is observed on this date. The month of Sawan is going on. This day is the last Pradosh fast of Sawan month. Special worship of Lord Shiva and Mother Parvati is done during Pradosh fast. Lord Shiva is pleased with the ritualistic worship during the Pradosh period and bestows the blessings of his devotees. Pradosh fast brings happiness in life and fulfills all wishes.
Lakshmi Puja (Lakshmi Mata)- August 20 is Friday. Friday is dedicated to Goddess Lakshmi. Special worship of Lakshmi ji is done on this day. Lakshmi ji has been called the goddess of wealth. Those who have financial problems in their life, they can get the blessings of Lakshmi ji by worshiping them methodically on this day. The blessings of Lakshmi ji removes financial troubles and provides prosperity.
20 August 2021 Panchang (Panchang 20 August 2021)
Vikrami Samvat: 2078
Month Purnimant: Shravan
Side: Shukla
Day: Friday
Date: Trayodashi – till 20:52:08
Nakshatra: Uttarashada – till 21:25:02
Karan: Kaulava – till 09:52:42, Taitil – till 20:52:08
Yoga: Ayushman – till 15:29:57
Sunrise: 05:52:36 AM
Sunset: 18:56:06 PM
Moon: Capricorn
dry season: rain
Rahu Kaal: 10:46:25 to 12:24:21 (no auspicious work is done during this period)
Shubh Muhurta Timings, Abhijit Muhurta – 11:58:14 to 12:50:28
Direction: West
Inauspicious timing –
Wicked Muhurta: 08:29:18 to 09:21:32, 12:50:28 to 13:42:42
Kulik: from 08:29:18 to 09:21:32
Kalvela / Ardhyam: from 15:27:10 to 16:19:24
hours: from 17:11:38 to 18:03:52
Kantak: From 13:42:42 to 14:34:56
Yamgand: From 15:40:14 to 17:18:10
Gulick Time: 07:30:32 to 09:08:28
Read also:
Pradosh Vrat 2021: Last Pradosh fast of Sawan month, know date, date and auspicious time
Poison yoga is going to be formed in Capricorn, do not do this work even by forgetting, otherwise there may be a big loss
Economic Horoscope 20 August 2021: These 5 zodiac signs have to be given attention in terms of money, profit can be accompanied by big loss, know horoscope
.