Today's Panchang: Today's date and today's constellation is special, do not do auspicious work during Rahu period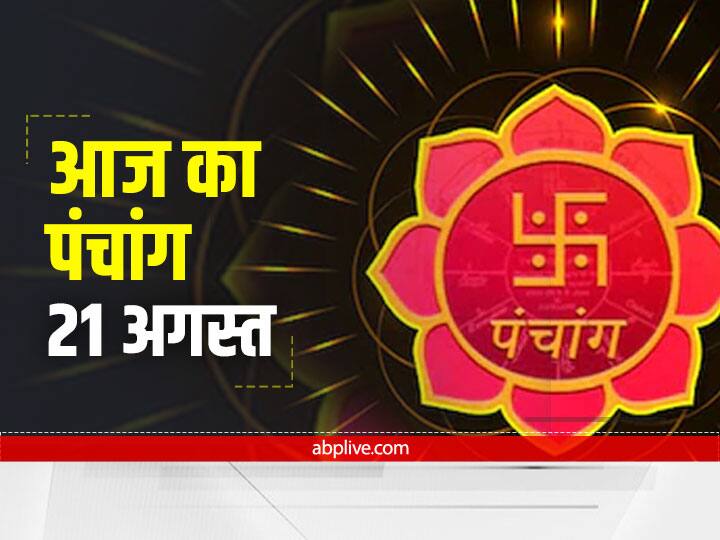 Aaj Ka Panchang 21 August 2021:According to the Panchang, 21 August 2021, Saturday is the Chaturdashi date of Shukla Paksha of Shravan month. Moon is transiting in Capricorn. Today's constellation is Shravan. Shani Dev is transiting in Shravan Nakshatra. Let's know today's Panchang.
today's worship
Shani Dev- 21st August 2021 is Saturday. Saturday is dedicated to the worship of Shani Dev. People on whom Shani's half-century and Shani's dhaiya are going on. Those people must do worship and remedies of Shani Dev on this day. Today is the last Saturday of Sawan month. The worship of Shani Dev in the month of Sawan is considered to be of special importance. Shani Dev is a devotee of Lord Shiva. At present, Saturn's half-century is going on in Sagittarius, Capricorn and Aquarius and Saturn's dhaiya is going on in Gemini and Libra.
Remedies for Shani (Shani Ke Upay)- Shani Dev is soon pleased by offering mustard oil. Mustard oil should be offered on Shani Dev in Shani temple on Saturday. Along with this, reciting Shani Chalisa is also considered to be very fruitful.
Panchang 21 August 2021
Vikrami Samvat: 2078
Month Purnimant: Shravan
Side: Shukla
Day: Saturday
Date: Chaturdashi – till 19:02:22
Nakshatra: Shravan – till 20:21:49
Karan: Gar – till 07:55:04, Vanij – till 19:02:22
Yoga: Good luck – till 12:53:32
Sunrise: 05:53:07 AM
Sunset: 18:55:05 PM
Moon: Capricorn
dry season: rain
Rahukaal: 09:08:37 to 10:46:22 (no auspicious work is done during this period)
Shubh Muhurta Timings, Abhijit Muhurta – 11:58:03 to 12:50:10
Direction: East
Inauspicious timing –
Wicked Muhurta: 05:53:07 to 06:45:15, 06:45:15 to 07:37:23
Kulik: from 06:45:15 to 07:37:23
Kalvela / Ardhyam: from 13:42:18 to 14:34:26
hours: from 15:26:34 to 16:18:42
Kantak: 11:58:03 to 12:50:10
Yamgand: From 14:01:51 to 15:39:36
Gulick Time: 05:53:07 to 07:30:52
Read also:
Economic Horoscope August 21, 2021: In the matter of business and money, Taurus, Leo and Aquarius should not do this work, know the horoscope of all zodiac signs
Chanakya Niti: To make the child eligible, parents should always keep these things in mind, know Chanakya Niti
Raksha Bandhan 2021: Know the Panchang of August 22, sisters in this auspicious time, tie Rakhi on brother's wrist, do not do this work even by forgetting during Rahu period
'Vish Yoga' is going to be formed in Capricorn, do not do this work even by forgetting, otherwise there may be a big loss
.