Twenty days to unravel the mystery of the underwater rings of Cap Corse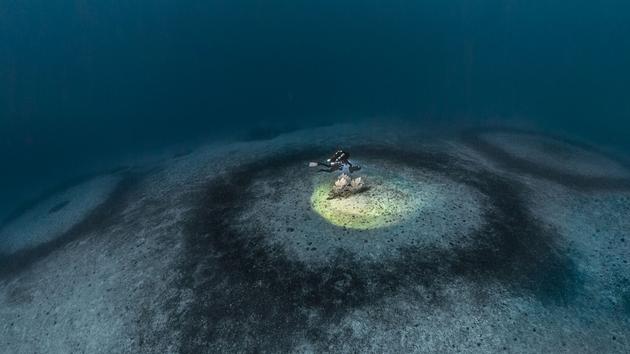 STORY – The four divers of the Gombessa 6 expedition were able to explore mysterious rings off Cap Corse, 120 meters deep.
Confined for twenty days in a 5 m life capsule2 at a pressure of 11 bars (i.e. 11 times the atmospheric pressure at the surface of the water), they were once again able to taste the fresh air of the end of the day, this Tuesday in the port of Monaco. Explorer Laurent Ballesta and his team have just completed the Gombessa 6 expedition, and hope to unravel some of the mysteries of the Mediterranean seabed. And if the weather in July has, on the surface, spoiled many hopes of a sunny vacation, it also undermined the expedition prepared for a long time: supposed to chain three weeks of dives between 100 and 120 meters deep. off Cap Corse, the four divers had to cancel half of their dives.
Read also :The seabed, new theaters of war
Despite the whims of the sky, the team was able to carry out scientific experiments intended to elucidate the mystery of these hundreds of circular structures discovered ten years ago in the Cap Corse et de l'Agriate marine natural park. ,
This article is for subscribers only. You have 80% left to discover.
Pushing back the limits of science is also freedom.
Continue reading your article for € 1 for 2 months
Already subscribed? Log in
.