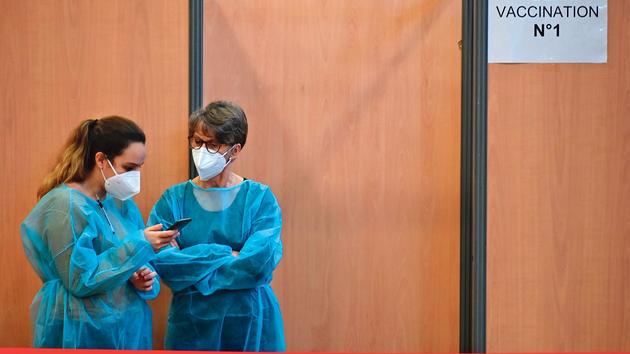 Vaccines: France hit by shortage
The authorities have set a target of 1 million new vaccines by the end of February, a figure lower than that of January.
After a recent boost, the authorities eased off on vaccination. While we injected more than 100,000 doses of anti-Covid vaccine every day last week, to exceed the symbolic mark of one million injections on Saturday January 23, the pace has slowed significantly since. Some 66,000 vaccinations Monday, 91,500 Tuesday, 47,300 Wednesday… At European level, France is clearly lagging behind, with an average of 1.89 injected doses per 100 inhabitants, against 3.82 for Denmark or 2.90 for Spain. And the trend is not expected to improve.
Read also : Vaccine against Covid-19: where is France compared to its neighbors?
After 1.4 million vaccinations in January, the government plans only one million first-time injections next month, of which 600,000 correspond to appointments already set. 2.4 million people will therefore have received at least one dose at the end of February, a number well below the 4 million mentioned by the Minister of Health last week. The authorities cite the delays in vaccine delivery to explain this slowdown.
France has certainly received 200,000 doses less than expected from Pfizer to date and it also expects a supply of Moderna vaccines cut by 25% for the month of February, but many doses are still expected … Pfizer still plans to deliver 2.5 million doses in February, Moderna 500,000 approximately to which would be added 2.5 million doses of AstraZeneca, whose vaccine has just been authorized by Europe. According to these delivery projections, even reserving the second doses for the 1.4 million vaccinated in the next four weeks and a safety stock "in case of a glitch", there should be plenty of room to increase the pace in February. . It would even have been possible to vaccinate more people by spacing out the doses, which the government refused to do. The High Authority for Health, however, recommended extending the period between the two injections from four to six weeks.
Appointment postponement
It is true that these doses have not yet been delivered, and that there is in fact a strain on stocks. Consequence: after the delays observed in the Grand Est last week, Île-de-France, Hauts-de-France and Bourgogne Franche-Comté announced Thursday the postponement of scheduled appointments for a first injection. The Hauts-de-France regional health agency indicates that all of these appointments scheduled until February 2 included "Will be deprogrammed and immediately reprogrammed from the first week of March". An organization that turns into a puzzle.
Read also :Vaccines: French research pushed to reform
In Abbeville, in the Somme, the municipal services had to join one by one some 235 people to cancel their appointment, without being able to promise them a new vaccination date. "They play the teleoperators and are on the front line facing the anger of the patients, those who are deprogrammed while they were waiting for their appointment, the caregivers who have still not been able, due to lack of doses, to be vaccinated , and people who are eligible for vaccination who call out to us ", deplores the mayor of the town, Pascal Demarthe. He does not hide his frustration at a time when Covid-19 cases are soaring in the department, where the incidence rate exceeds 264 cases per 100,000 inhabitants.
One example among many others in the thousand vaccination centers spread across the country. The government pointed out last week the excess of zeal of local elected officials who opened more than expected, thinking that the doses would follow. "We end up, instead of the 6 vaccination centers per department that I had required, with some departments which have 33. But it is not because you will open more centers that you will have more vaccines", noted Olivier Véran, specifying that around thirty departments had thus made "overbooking" and "Ended up with more slots than doses". To allow patients to see more clearly, the minister then promised the publication "The precise number of doses available to each vaccination center". At this stage however, these data are still not available, indicates the General Directorate of Health, adding that "To alleviate saturation situations, a waiting list system is currently being developed".Waiting, "If all the vaccination centers are not open continuously and every day, none is intended to close permanently", we assure the DGS. And the instruction is always "Postpone appointments, not cancel them".
To see also – Delay of vaccines: the fault of the labs?
Delay of vaccines: the fault of the labs? – Watch on Figaro Live
Read also :Covid-19: Colchicine, miracle cure or new mirage?
Overwhelmed staff, annoyed patients … and angry caregivers, while the doses reserved for the most vulnerable are reallocated to the general public under pressure from local elected officials. In hospitals responsible for vaccinating caregivers, "Order has been given (…) to cancel hundreds of meetings", denounces in a press release the regional union of health professionals (URPS). An observation that however does not share the Dr Philippe Boisnault, President of the French Society of General Medicine. In its outpatient center in Magny-en-Vexin (Val-d'Oise), "We held specific sessions for caregivers and we continue to vaccinate them, he explains. We have not received any instructions aiming to vaccinate the over 75s as a priority rather than health professionals ".
.