What is the "vaccinee syndrome"?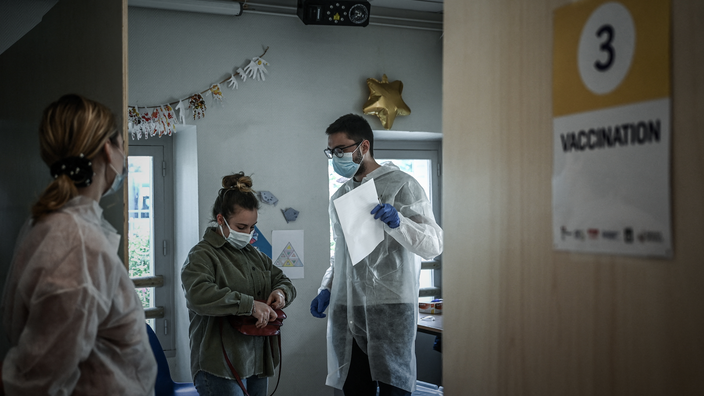 FOCUS – The number of people vaccinated is increasing, and doctors are worried about a new phenomenon that they have observed.
"There is no problem, I am vaccinated», Launches Camille before kissing a friend, who has not yet received her first injection. With deconfinement and vaccination open to all, or at least partially since May 12, many are returning to their old habits. While some are aware that they can still carry the virus and transmit it even with two injections, others seem to ignore it and abandon barrier gestures, feeling free from Covid-19.
Read also :Covid-19 and travel: possible destinations for the French, health pass … Our map, country by country
All health specialists, however, warn: we must continue to be careful, the virus is still actively circulating in the territory, and the number of vaccinated has not yet reached the level sufficient to be able to hope for immunity. In recent days, we have heard about the "vaccinee syndrome», Which worries many doctors.
What is the "vaccinee syndrome"?
Speaking of this new syndrome, doctors refer to people who have received a first dose of vaccine and who free themselves from barrier gestures, at the risk of catching Covid-19, transmitting it, or even ending up in hospital. . In The Parisian, Benjamin Davido, infectious disease specialist at Garches hospital, explains that he is increasingly observing "this type of patient in our services. They see their first dose as a totem, while all the first antibodies do not appear until after two weeks and then gradually climb".
Jean-Michel Constantin, secretary general of the French Society of Anesthesia and Resuscitation, also confirms this observation with the Parisian : "Since the start of vaccination, there has been a considerable number of infections and post-first dose hospitalizations. I still very recently admitted a patient in this case, he says. There are no waves of resuscitation, but it is indicative of a state of mind. As soon as we think we are at least protected, we too quickly relax the barrier gestures".
What are the scientists' recommendations?
On Friday, May 14, Soumya Swaminathan, WHO's chief scientist, said that vaccines "protect against infection in a proportion ranging from 70 to 80%», According to data collected in different countries. At Figaro, Clotilde Latarche, epidemiologist at the Nancy University Hospital, had specified that it was necessary to wait three weeks after the first injection to see "the risk of transmission decrease by 50%".
"This is why we need other protective measures, such as wearing a mask, distancing, etc., until countries reach a level where large numbers of people are protected and the circulation of virus and transmission reach very low levels", Added the WHO expert.
At Parisian, the resuscitator Jean-Michel Constantin recalls that once vaccinated, it is always possible to catch a "rifle form of the disease», Or even, for young people, "A long Covid". Doctors all recommend being careful and not lowering your guard too early, at the risk of starting the epidemic again. "Despite the vaccination, we keep the mask, we keep the barrier gestures, we continue to be careful", hammered Hubert Fleury in front of the cameras of TF1.
When can we hope to remove the barrier gestures?
For the moment, in France, the barrier gestures have been slightly adapted for people who have benefited from a "complete vaccination schedule". On the recommendations of the High Council of Public Health, it is possible in the private family and friendly setting, to remove the mask, provided that the other barrier gestures are respected. In addition, some departments which observe a low incidence rate have also decided to lift the obligation to wear masks outdoors.
However, it is not currently possible to remove the barrier gestures on a large scale. Indeed, with the circulation of the virus as it is currently in certain departments, as well as the vaccination which is not yet sufficiently extended, it is still too risky to remove the barrier gestures as is the case in Israel. or in the United States.
What are the vaccination figures in France?
As of May 28, 2021, out of 67 million inhabitants, 24,150,103 people have received a first dose, and 11,108,158 people are fully vaccinated.
The government reminded us: it is important to continue to apply barrier gestures until further notice: "We can consider lowering our guard", But when enough people have been vaccinated, the Minister of Health, Olivier Véran, indicated earlier this month.
SEE ALSO – The obligation to wear a mask for vaccinated people is "absurd", judge Jean-Christophe Lagarde
.