When science makes paraplegics walk again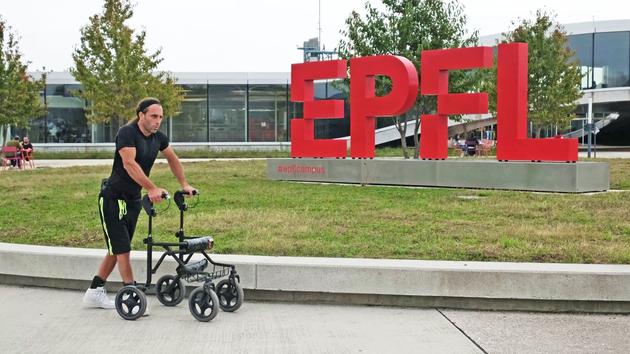 DECRYPTION – Electrical stimulation of the spinal cord is proving increasingly effective for paraplegic patients.
Step by step, we are approaching what was a miracle a few decades ago: allowing people who have become paraplegic following a spinal cord injury to get out of their wheelchairs to rediscover the joys of independent walking…
In Switzerland, a team led by Grégoire Courtine, neuroscientist at the École polytechnique fédérale de Lausanne (EPFL), and Jocelyne Bloch, neurosurgeon at the Center hospitalier universitaire vaudois (CHUV), described in the journal NatureMedicine how three patients with complete spinal cord injury became able to walk, swim, stand and control their trunk, thanks to 16 electrodes implanted behind the spinal cord, in contact with the meninge, to send on demand electrical impulses causing the muscles to contract.
Read alsoSpinal cord implant: 'I can go up and down stairs just by using a crutch'
This is not the first: developed in the late 1960s to treat neuropathic pain, epidural electrical stimulation soon showed its ability to restore…
.