Why did Radha-Krishna not get married after all?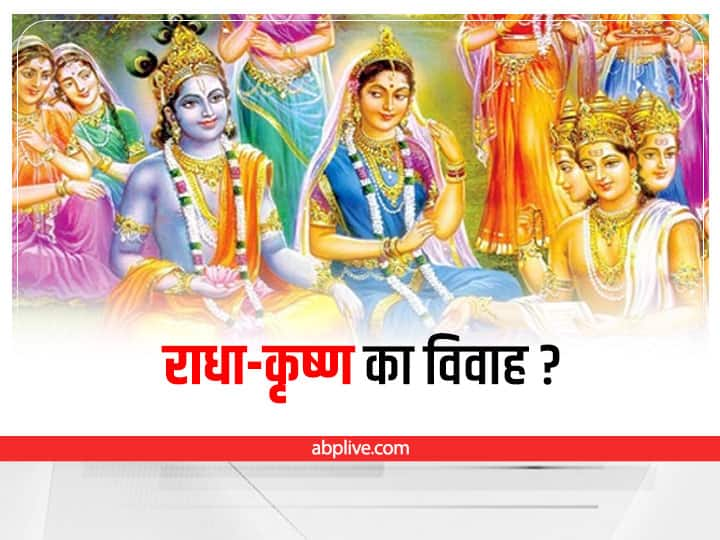 Krishna Janmashtami 2022: Krishna's pastimes with Radha and Radha's passion for Krishna is not hidden from anyone. Even today people give examples of his immortal love. Even though they could never happen to each other, but still their names are taken together. After all, what was the reason, due to which the love story of Radha-Krishna remained incomplete? Nobody knows this. The reason for this has been given in Garga Samhita and Puranas. Let us know why the marriage of Radha-Krishna could not happen after all?
why the unfinished love story remained
According to Garg Samhita, when Krishna was playing in the lap of Nanda Baba in his childhood. Then he realized a wonderful power which was none other than Radha. He immediately left his childhood and entered puberty. It is believed that at this time Brahma ji got Radha-Krishna married. After getting married everything became normal. It was only after marriage that Brahma ji and Radha ji also became intertwined and Krishna also returned to his childhood.

According to the Puranas, when Krishnaji was leaving Vrindavan, he had promised Radha that he would return, but he met Rukmani, who had accepted him as her husband. When Rukmini was being married to someone else, Krishna ji reached there and married her.

According to mythology, when Radha-Krishna met in childhood, it was only then that they realized their love. Radha was 11 months older than Krishna and their love was spiritual, so they never tied the knot.

According to mythology, Radha is also considered to be the spiritual incarnation of Rukmani. Now if these stories are to be believed, Radha-Krishna did not get married directly, but both continued to love each other throughout their lives.

According to the Brahmavaivarta Purana, Radha was married to Yashoda's brother Ryan Gopa and Radha had started feeling Krishna's maternal aunt in the relationship, so she did not get married. It is also said that Radha had left her house and left a shadow at her house, from which Gopa was married.

Krishna ji also married Rukmini because he knew that Rukmini is Radha. Actually one form of Radha was that of Rukmini.
Also read – Krishna Janmashtami 2022: Know when it is Krishna Janmashtami, do not forget to do this work on this day, you can get inauspicious results
56 Bhog For Shri Krishna Janmashtami 2022: Why Krishna is offered fifty-six bhog, know the reason
Disclaimer: The information provided here is based on assumptions and information only. It is important to mention here that ABPLive.com does not endorse any kind of belief, information. Before applying any information or assumption, consult the concerned expert.
,