You are bored after eating potato-onion dumplings, so make crunchy brinjal dumplings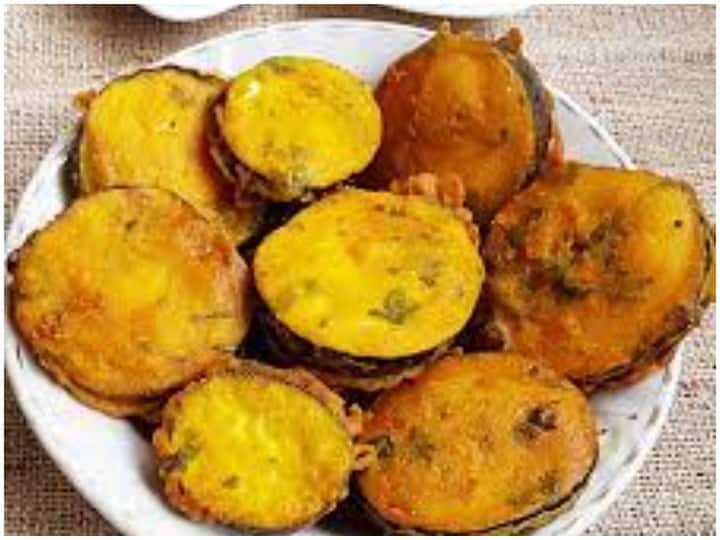 Pakoda Recipe: As soon as it is the rainy season, I feel like eating something tasty. Samosas and pakodas are most delicious in this season. Most people enjoy tea with potato-onion dumplings in the rain. If you bore the taste of aloo onion pakodas or want to try something new, then you can eat brinjal pakodas.
Eggplant is an easily available vegetable in everyone's homes. If you eat crispy brinjal pakodas with tea, you will be left eating. They look very tasty. You can eat brinjal pakodas in breakfast or even with evening tea. It is very easy to make them. Let's know how to make eggplant dumplings.
Ingredients for Brinjal Dumplings
1- big size brinjal

1 cup- Besan

cup- rice flour

2- Whole red chili

1/4- tsp ajwain

a pinch – asafoetida

2-3 cloves – garlic

1 tsp- lemon juice

salt to taste

oil for frying
eggplant dumplings recipe
To make pakodas, wash the brinjal first and then cut it into round slices.

Now to prepare the batter, put gram flour, rice flour, asafoetida, salt, carom seeds in a bowl and beat it well.

Now make a paste by mixing red chili, garlic, salt and lemon juice and mix it in the gram flour solution.

To make pakodas, heat oil in a pan and dip the brinjal in it while dipping it in the batter.

You have to take only one eggplant slice at a time. Similarly, put as many slices as easily available in the pan.

Now they have to be fried till they become crisp i.e. till the pakodas are golden.

Hot crispy brinjal pakodas are ready. Serve them with sauce or green chutney.
Also read: Kitchen Hacks: Feed ragi pudding to a child when he is constipated, it is ready in 2 minutes
Also read: Kitchen Hacks: Make sabudana idli for breakfast, kids and elders will like it all
,